Impact of extraction method on the detection of quality biomarkers in normal vs. Dfd meat
Citación:
Foods, 10(5) (2021); doi:10.3390/foods10051097
Patrocinado por:
This research was funded by the Ministerio de Ciencia, Innovación y Universidades (MICIU) (Spain), Agencia Estatal de Investigación (Spain) and FEDER funds, under the project number RTI2018-096162-RC21. The APC was funded by RTI2018-096162-RC21. L.G-B acknowledges her contract to the MICIU (PRE2019-091053).
Id. Proyecto:
MICIU/FEDER/RTI2018-096162-RC21
MICIU/PRE2019-091053
Files in this item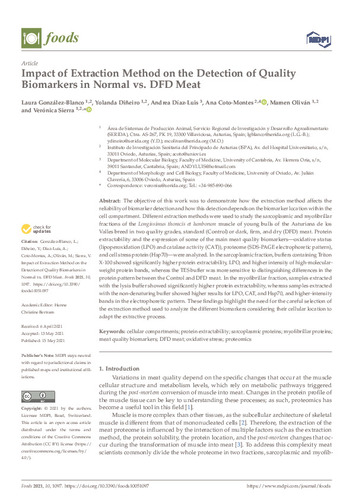 Compartir
Estadísticas de uso
Metadata