Optimizing the environmental profile of fresh-cut produce: Life cycle assessment of novel decontamination and sanitation techniques
Citación:
Sustainability (Switzerland), 12(9), p. 3674- (2020); doi:10.3390/su12093674
Patrocinado por:
This research was funded by the Plan of Science, Technology, and Innovation of the Principality of Asturias, grant number FC-GRUPIN-IDI/2018/000225. The authors wish to thank the European Union's Seventh Programme for research and technological development FP7-ERANET-SUSFOOD "CEREAL Project" for the financial support given, along with the national Institute for Agricultural and Food Research and Technology Ref. ERA35-CEREAL-INIA.
Id. Proyecto:
FP7-ERANET-SUSFOOD
FC-GRUPIN-IDI/2018/000225
Files in this item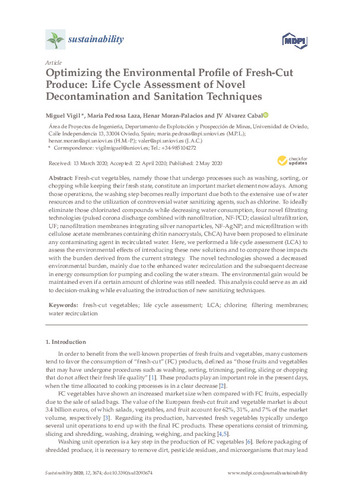 Compartir
Estadísticas de uso
Metadata