Case study-based sensitivity analysis of scale estimates w.r.t. the shape of fuzzy data
Citación:
Lubiano M.A., Carleos C., Montenegro M., Gil M.Á. (2019) Case Study-Based Sensitivity Analysis of Scale Estimates w.r.t. the Shape of Fuzzy Data. En: Destercke S., Denoeux T., Gil M., Grzegorzewski P., Hryniewicz O. (eds) Uncertainty Modelling in Data Science. SMPS 2018
Serie:
Advances in Intelligent Systems and Computing ; 832
Descripción física:
p. 157-165
Patrocinado por:
The research is this paper has been partially supported by the Spanish Ministry of Economy, Industry and Competitiveness Grant MTM2015-63971-P.
Id. Proyecto:
MTM2015-63971-P
Collections
Files in this item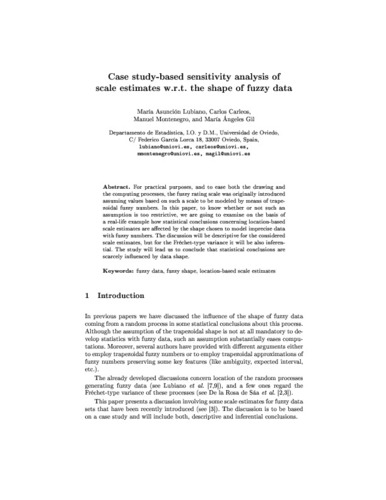 Compartir
Estadísticas de uso
Metadata