Impact of anaerobic digestion and centrifugation/decanting processes in bacterial communities fractions
Citación:
Journal of Bioscience and Bioengineering, 126(6), p. 742-749 (2018); doi:10.1016/j.jbiosc.2018.05.024
Patrocinado por:
The work upon which this paper is based on was co-financed by COGERSA, S.A.U. (Projects FUO-EM-138-15, FUO-139-16), IDEPA (Project IDE/2015/000245), Spanish MINECO (Project CTM2015-63864-R) and FEDER funds from European Union. Technical assistance from the Scientific-Technical Services of the University of Oviedo is gratefully acknowledged.
Id. Proyecto:
MINECO/CTM2015-63864-R
IDEPA/IDE/2015/000245
FICYT/IDI/2018/00127
Collections
Files in this item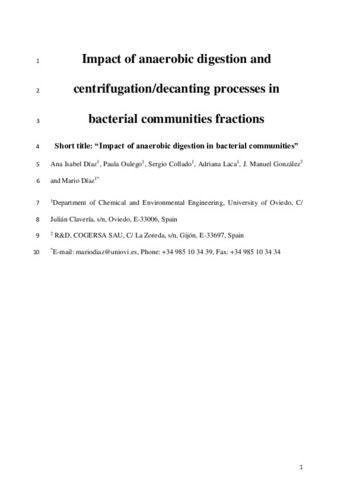 Compartir
Estadísticas de uso
Metadata