A new hybrid model to foretell thermal power efficiency from energy performance certificates at residential dwellings applying a Gaussian process regression
Citación:
Neural Computing and Applications, 33, p. 6627-6640 (2021); doi:10.1007/s00521-020-05427-z
Patrocinado por:
The authors gratefully acknowledge the compu- tational help supplied by the Department of Mathematics at University of Oviedo and financial help of the Research Projects PGC2018-098459-B-I00 and FC-GRUPIN-IDI/2018/000221, both partial funding from European Regional Development Fund (ERDF). In this sense, the authors acknowledge the collaboration based on the Research Project FUO-118-19. Likewise, it is mandatory to thank Anthony Ashworth their revision of English grammar and spelling of this article.
Id. Proyecto:
PGC2018-098459-B-I00
FC-GRUPIN-IDI/2018/000221
Files in this item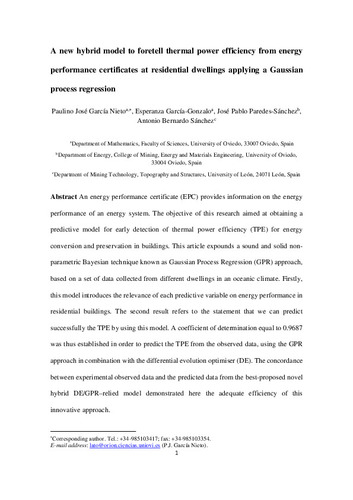 Compartir
Estadísticas de uso
Metadata