M-estimators and trimmed means: from Hilbert-valued to fuzzy set-valued data
Citación:
Advances in Data Analysis and Classification, 15, p. 267–288 (2020); doi:10.1007/s11634-020-00402-x
Patrocinado por:
The research of Beatriz Sinova and Pedro Terán was partially supported by the Spanish Ministry of Economy and Competitiveness under Grant MTM2015-63971-P; and the Principality of Asturias/FEDER Funds under Grants GRUPIN14-101 and GRUPIN-IDI2018-000132. The research of Stefan Van Aelst was supported by Internal Funds KU Leuven (Belgium) under Grant C16/15/068. Their support is gratefully acknowledged.
Id. Proyecto:
MINECO/MTM2015-63971-P
FEDER/GRUPIN14-101
FEDER/GRUPIN-IDI2018-000132
Files in this item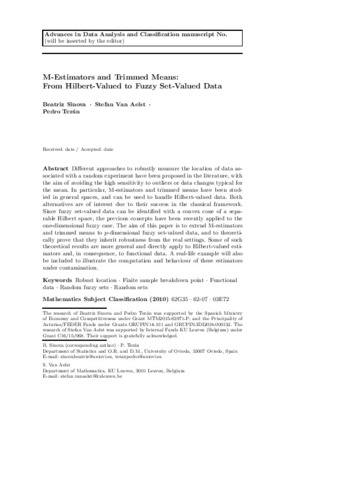 Compartir
Estadísticas de uso
Metadata