Long-term coffee consumption is associated with fecal microbial composition in humans
Citación:
Nutrients, 12(5), p. 1287- (2020); doi:10.3390/nu12051287
Patrocinado por:
This research was funded by Plan Estatal de I+D+I through projects AGL2017-83653-R (AEI/FEDER, UE) and RTI2018-098288-B-I00 (MCIU/AEI/FEDER, UE), and by contracts with Biopolis SL (Valencia, Spain), CAUCE Foundation (Oviedo, Spain) and Alimerka Foundation (Llanera, Spain). N.S. was granted a postdoctoral contract awarded by the Fundación para la Investigación Biosanitaria de Asturias (FINBA); M.G-M. was supported by a FPU (FPU18/03393) predoctoral grant from the Spanish Ministry of Science, Innovation and Universities; and S.R.-S. is the recipient of a Research Training contract awarded under project RTI2018-098288-B-I00.
Id. Proyecto:
AEI/FEDER, UE/AGL2017-83653-R
MCIU/AEI/FEDER/RTI2018-098288-B-I00
FPU18/03393
Files in this item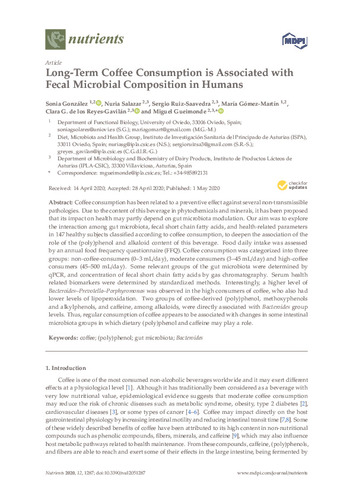 Compartir
Estadísticas de uso
Metadata