The Dominance, Covering and Supercovering Relations in the Context of Multiple Partially Specified Reciprocal Relations
Serie:
Advances in Intelligent Systems and Computing
Descripción física:
p. 483-492
Description:
Joint World Congress of the International Fuzzy Systems Association and the Annual Conference of the North American Fuzzy Information Processing Society IFSA/NAFIPS'2019 (2019. Lafayette, Louisiana, USA)
Patrocinado por:
Acknowledgements. This research has been partially supported by Spanish MINECO (TIN2017-87600-P). Raúl Pérez-Fernández acknowledges the support of the Research Foundation of Flanders (FWO17/PDO/160).
Id. Proyecto:
MINECO/TIN2017-87600-P
Collections
Files in this item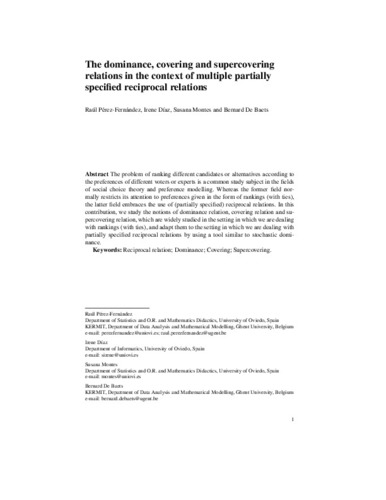 Compartir
Estadísticas de uso
Metadata