Maternal nut intake in pregnancy and child neuropsychological development up to 8 years old: a population-based cohort study in Spain
Citación:
European Journal of Epidemiology, 34(7), p. 661-673 (2019); doi:10.1007/s10654-019-00521-6
Patrocinado por:
This study was funded by Grants from Spanish Institute of Health Carlos III-Ministry of Economy and Competitiveness (INMA Network G03/176, CB06/02/0041, and FIS-FEDER: PI03/1615, PI04/1436, PI08/1151, PI04/2018, PI04/1509, PI04/1112, PI04/1931, PI05/1079, PI05/1052, PI06/1213, PI06/0867, PI07/0314, PI09/02647, PS09/00090, PI09/02311, MS11/0178, PI13/1944, PI13/2032, PI13/02429, PI16/1288, and PI17/00663), Generalitat de CatalunyaCIRIT 1999SGR 00241, JCI-2011–09771–MICINN, Generalitat Valenciana (Conselleria de Sanitat-048/2010 and 060/2010 and FISABIO-UGP 15-230, 15-244, and 15-249), Alicia Koplowitz Foundation, Universidad de Oviedo, Fundación Cajastur-Liberbank, Department of Health of the Basque Government (2005111093 and 2009111069), the Provincial Government of Gipuzkoa (DFG06/004 and DFG08/001), and the Fundación Roger Torné. This study has been funded by Instituto de Salud Carlos III through the projects "CP14/00108 & PI16/00261" (Co-funded by European Regional Development Fund "A way to make Europe"). Jordi Julvez, Mònica Guxens and MariaJose Lopez-Espinosa hold a Miguel Servet contract (MS14/00108, MS13/00054 and MSII16/00051, respectively) awarded by the Spanish Institute of Health Carlos III (Ministry of Economy and Competitiveness).
Id. Proyecto:
MINECO/ISCIII/CB06/02/0041
FIS/FEDER/PI03/1615
FIS/FEDER/PI04/1436
FIS/FEDER/PI08/1151
FIS/FEDER/MS11/0178
Files in this item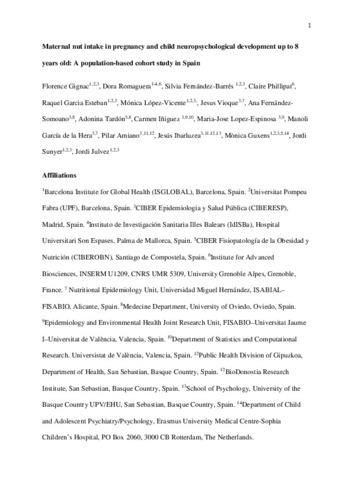 Compartir
Estadísticas de uso
Metadata