VY6, a β-lactoglobulin-derived peptide, altered metabolic lipid pathways in the zebra fish liver
Citación:
Food and Function, 7(4), p. 1968-1974 (2016); doi:10.1039/c6fo00003g
Descripción física:
p. 1968-1974
Patrocinado por:
This study has been supported by a regional project referencedas FUO-EM-330-13 and CAPSA FOOD. This is a part of the investigations of the Laboratory of Genetics of Natural Resources, funded by Asturias Principality Grant GRUPIN-2014-093. H. Do Huu (ID number SAT_0263) was granted by Swap and Transfer, Erasmus Mundus Action 2.
Id. Proyecto:
FUO-EM-330-13
GRUPIN-2014-093
Files in this item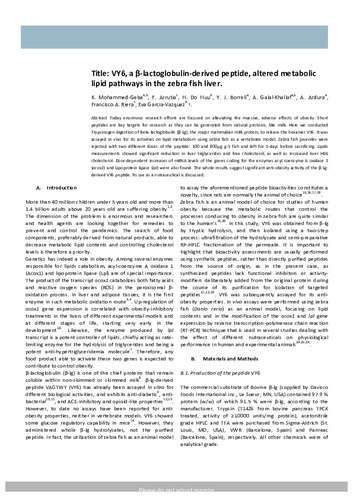 Compartir
Estadísticas de uso
Metadata