Equol status and changes in fecal microbiota in menopausal women receiving long-term treatment for menopause symptoms with a soy-isoflavone concentrate
Citación:
Frontiers in Microbiology, 6, 777- (2015); doi:10.3389/fmicb.2015.00777
Patrocinado por:
This research was funded by projects from the Spanish Ministry of Economy and Competitiveness (MINECO; Ref. AGL2011-24300 and AGL-2014-57820-R). LG was supported by a research fellowship of the FPI Program from MINECO (Ref. BES-2012-062502). AF was supported by a research contract under CSIC JAE-Doc Program.
Id. Proyecto:
MINECO/AGL2011-24300
MINECO/AGL-2014-57820-R
MINECO/BES-2012-062502
Files in this item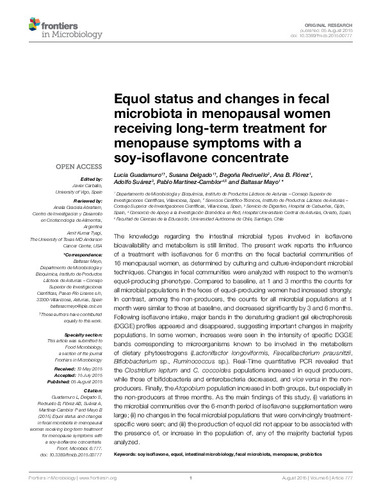 Compartir
Estadísticas de uso
Metadata