Black holes and equivariant charge vectors in N=2, d=4 supergravity
Citación:
Journal of High Energy Physics, 9, (2013); doi:10.1007/JHEP09(2013)010
arXiv:1305.5488
Identificador local:
20131184
Patrocinado por:
This work has been supported in part by the Spanish Ministry of Science and Education grant FPA2012-35043-C02-01, the Comunidad de Madrid grant HEPHACOS S2009ESP-1473 and the Spanish ConsoliderIngenio 2010 program CPAN CSD2007-00042. The work of PB has been supported by the JAE-predoc grant JAEPre 2011 00452. The work of PG has been supported in part by grants FIS2008-06078-C03-02 and FPA2008-03811-E/INFN of Ministerio de Ciencia e Innovación (Spain) and ACOMP/2010/213 from Generalitat Valenciana. The work of PM has been supported by the Ram´on y Cajal fellowship RYC-2009-05014.
Files in this item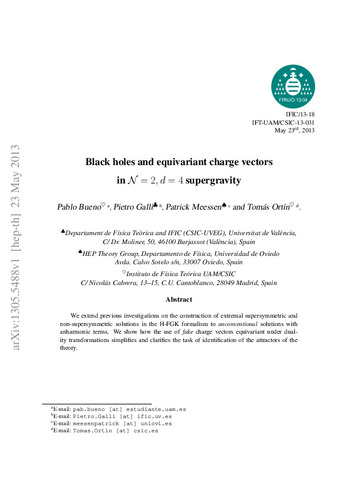 Compartir
Estadísticas de uso
Metadata