Recovery in reading: A treatment study of acquired deep dyslexia in Spanish
Citación:
Aphasiology, 24(10), p. 1115-1131 (2010); doi:10.1080/02687030902969792
Patrocinado por:
We are grateful, above all, to MJ. This investigation was funded by grant MEC–06–SEJ2006–6712 from the Spanish government. Robert Davies and Fernando Cuetos are members of the Marie Curie Research and Training Network: Language and Brain (RTN: LAB) funded by the European Commission (MRTN–CT–2004–512141) as part of its Sixth Framework Program. Javier Rodríguez-Ferreiro was supported by a grant from the Gobierno del Principado de Asturias (Plan de Ciencia, Tecnología e Innovación de Asturias 2006–2009).
Id. Proyecto:
MEC–06–SEJ2006–6712
MRTN–CT–2004–512141
Files in this item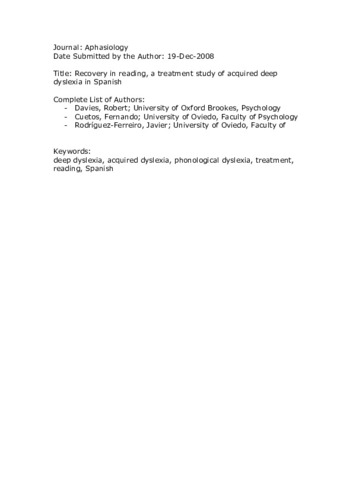 Compartir
Estadísticas de uso
Metadata