Bacteriophage induction versus vaginal homeostasis: Role of H2O2 in the selection of Lactobacillus defective prophages
Citación:
International Microbiology, 12(2), p. 131-136 (2009); doi:10.2436/20.1501.01.90
Patrocinado por:
This work was supported by the CICYT grants SAF2004-0033 and BFU2007-65781 from the Ministry of Science and Technology (Spain) and the FEDER Plan. N.S. and S.E. are holders of a fellowship associated with these grants, while R.M. has a scholarship from FICYT (Principality of Asturias).
Id. Proyecto:
CICYT/SAF2004-0033
CICYT/BFU2007-65781
Files in this item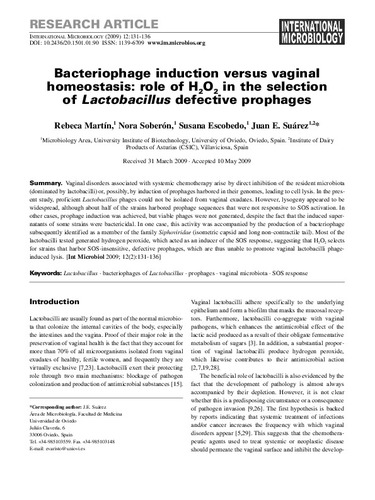 Compartir
Estadísticas de uso
Metadata