Estudio de la evolución de la exposición a plomo en la población infantil española en los últimos 20 años. ¿Un ejemplo no reconocido de «salud en todas las políticas»?
Other title:
Trend in lead exposure in the Spanish child population in the last 20 years. An unrecognized example of health in all policies?
Citación:
Gaceta Sanitaria, 27(2), p. 149-155 (2013); doi:10.1016/j.gaceta.2012.01.019
Patrocinado por:
Este estudio ha sido financiado por el Instituto de Salud Carlos III (G03/176 y CB06/02/0031), el Fondo de Investigaciones Sanitarias (FIS-FEDER 03/1615, 04/1509, 04/1112, 04/2018, 04/1436, 04/1931, 05/1079, 05/1052, 06/1213, 07/0314, 07/0252, 08/1151, 09/02647, 09/02311), la Conselleria de Sanitat de la Generalitat Valenciana, la Consejería de Salud de la Junta de Andalucía (PI-0183/2007 y PI-0675/2010), la Generalitat de Catalunya-CIRIT 1999SGR 00241, la Diputación Foral de Guipúzcoa (DFG/004), el Departamento de Sanidad y Consumo del Gobierno Vasco (2005111093), la EU Commission (QLK4-1999-01422, QLK4-2002-00603, NEWGENERIS FP6-2003-Food-3-A-016320 and CONTAMED FP7-ENV-212502) y la Fundación Roger Torné. También ha sido financiado por la encomienda de gestión entre el Ministerio de Medio Ambiente y el Instituto de Salud Carlos III para la investigación sobre la presencia y la vigilancia de contaminantes orgánicos persistentes y otras sustancias en humanos (BOE 34495 y DOCV 6198).
Id. Proyecto:
G03/176
CB06/02/0031
FIS-FEDER 03/1615
PI-0183/2007
CONTAMED FP7-ENV-212502
NEWGENERIS FP6-2003-Food-3-A-016320
Files in this item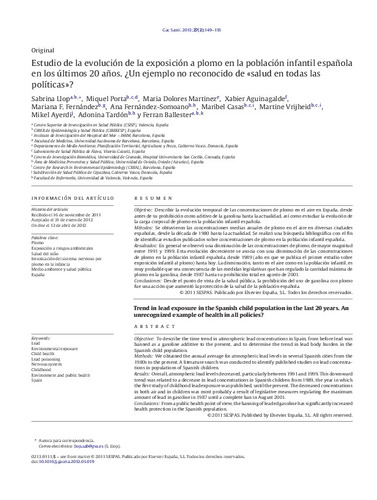 Compartir
Estadísticas de uso
Metadata