Mycelium differentiation and antibiotic production in submerged cultures of Streptomyces coelicolor
Citación:
Applied and Environmental Microbiology, 74(12), p. 3877-3886 (2008); doi:10.1128/AEM.02715-07
Patrocinado por:
This research was funded by a grant from the DGI, Subdirección General de Proyectos de Investigacion, MEC, Spain (BIO2007-66313). We thank M. Bibb, Department of Molecular Microbiology, John Innes Centre, Norwich, United Kingdom, for providing the S. coelicolor M600 redD-eGFP strain and Priscilla A. Chase for revising the text.
Files in this item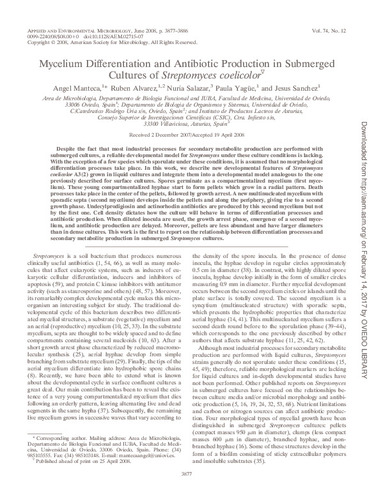 Compartir
Estadísticas de uso
Metadata