Genetic monitoring on the world's first msc eco-labeled common octopus (o. Vulgaris) fishery in western asturias, Spain
Citación:
Scientific Reports, 13(1) (2023); doi:10.1038/s41598-023-29463-6
Patrocinado por:
This research was funded by the project ECOSIFOOD (MCI-20-PID2019-108481RB-I00/AEI/10.13039/501100011033) and GRUPIN-AYUD/2021/50967. Romero-Bascones A. was funded by the FPU program of the Spanish Ministry of Science, Innovation and Universities (MU-21-FPU20/06628). This work was partially developed in a Master Thesis presented by Pirhadi, N. and the Professional Practices conducted by R. Thoppil in the IMBRSea Master Program (imbrsea.eu) with the support of the Erasmus + program of the European Union. This is a contribution of the Marine Observatory of Asturias (OMA) and the Biotechnology Institute of Asturias (IUBA).
Files in this item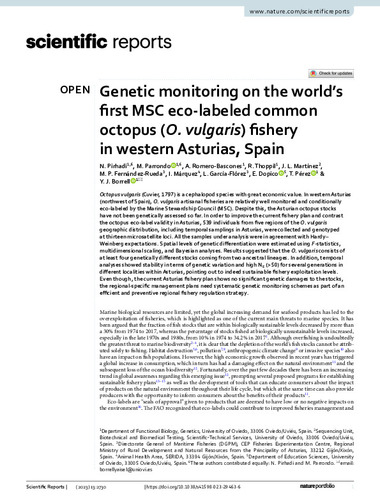 Métricas
Compartir
Estadísticas de uso
Metadata