Early detection of flash floods using case-based reasoning
Citación:
Engineering Proceedings, 18(1) (2022); doi:10.3390/engproc2022018019
Patrocinado por:
This research has been funded by the SUDOE Interreg Program under the grant INUNDA-TIO SOE3/P4/E0929. Furthermore, this research has been funded by European Union's Horizon 2020 research and innovation programme (project DIH4CPS) under the Grant Agreement no 872548, by the Spanish Ministry of Economics and Industry under the grant PID2020-112726RB-I00, by the Spanish Research Agency (AEI, Spain) under the grant agreement RED2018-102312-T (IA-Biomed), by CDTI (Centro para el Desarrollo Tecnológico Industrial) under projects CER-20211003 and CER-20211022, by the Missions Science and Innovation project MIG-20211008 (INMERBOT). Further, by Principado de Asturias, grant SV-PA-21-AYUD/2021/50994 and by ICE (Junta de Castilla y León) under project CCTT3/20/BU/0002.
Id. Proyecto:
info:eu‐repo/grantAgreement/EC/H2020/872548
MINECO/PID2020-112726RB-I00
AEI/RED2018-102312-T
SV-PA-21-AYUD/2021/50994
Files in this item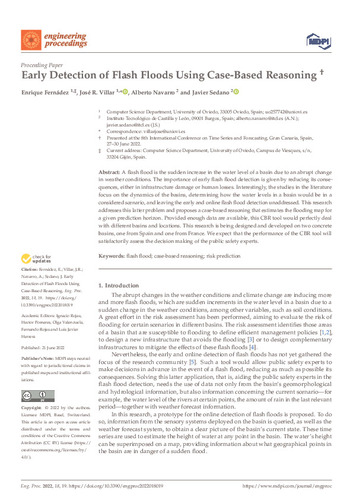 Compartir
Estadísticas de uso
Metadata