Abundance and trait-matching both shape interaction frequencies between plants and birds in seed-dispersal networks
Citación:
Basic and Applied Ecology, 66, p. 11-21 (2023); doi:10.1016/j.baae.2022.11.008
Patrocinado por:
The research was funded by MINECO/ FEDER grants CGL2011-28430 and CGL2015-68963-C2-2-R to D.G., and BES2012-052863 and BES-2016-078260 to I.D. and R.P., respectively. R.P. received an Alumni-Grant from Senckenberg University. I.D. is currently funded by the Balearic Government. J.R.P. was supported by BIO-INTFOREST funded by "Obra Social la Caixa" and "Fundación Caja Navarra", under the agreement LCF/PR/PR13/51080004 in the framework of UPNA's "Captación de Talento" program. Fieldwork was conducted with the permission of the Government of Asturias.
Id. Proyecto:
MINECO/FEDER/CGL2011-28430
MINECO/FEDER/CGL2015-68963-C2-2-R
MINECO/FEDER/BES2012-052863
Files in this item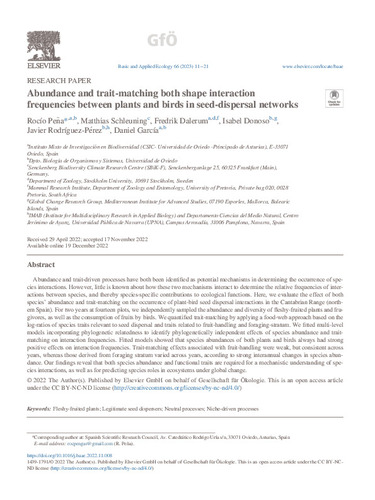 Compartir
Estadísticas de uso
Metadata