Development of a site form equation for predicting and mapping site quality. A case study of unmanaged beech forests in the Cantabrian range (NW Spain)
Citación:
Forest Ecology and Management, 529 (2023); doi:10.1016/j.foreco.2022.120711
Patrocinado por:
While undertaking the present study, the first author was in receipt of a Severo Ochoa Fellowship from the Asturias Government-FICYT(code 09/111). The authors are grateful to the Asturias Government Forest Service for valuable help and also for financing the felling of the trees used in the study. The authors also thank the Asturias and Castilla y León Government Forest and Environmental Services for access to the forests and for granting permission to carry out inventories. Our thanks to Mr José Manuel Álvarez González and Dr María Castaño Díaz for invaluable help during field sampling and laboratory tasks. Finally, the authors thank two anonymous referees for their highly constructive, valuable comments and suggestions.
Files in this item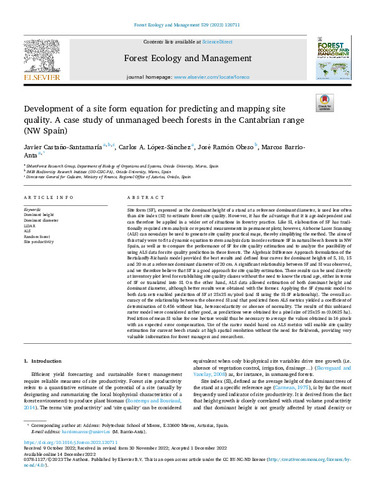 Métricas
Compartir
Estadísticas de uso
Metadata