Copper-catalyzed azide-alkyne cycloaddition (CuAAC) by functionalized NHC-based polynuclear catalysts: scope and mechanistic insights
Citación:
Organometallics, 41(15), p. 2154-2169 (2022); doi:10.1021/acs.organomet.2c00246
Patrocinado por:
The authors express their appreciation for the financial support from the Spanish Ministerio de Ciencia e Innovación (MICINN/FEDER) under Projects PID2019-103965GBI00/AEI/10.13039/501100011033 and PGC2018-095953-BI00 (MICIU/AEI/FEDER, UE), as well as the ″Departamento de Ciencia, Universidad y Sociedad del Conocimiento del Gobierno de Aragón″ (group E42_20R) and ″Fundación para el Fomento en Asturias de la Investigación Científica Aplicada y Tecnológica″ (grant IDI-2021-000054). M.G.-L. thanks the Spanish Ministerio de Economía y Competitividad (MINECO) for a predoctoral fellowship (BES-2014-069624). M.G. thankfully acknowledges the Spanish Ministerio de Ciencia, Innovación y Universidades (MICIU) for a predoctoral FPU fellowship (FPU19/02903).
Id. Proyecto:
MICINN/FEDER/PID2019-103965GBI00
MICIU/AEI/FEDER/PGC2018-095953-BI00
IDI-2021-000054
MINECO/BES-2014-069624
MICIU/FPU19/02903
Files in this item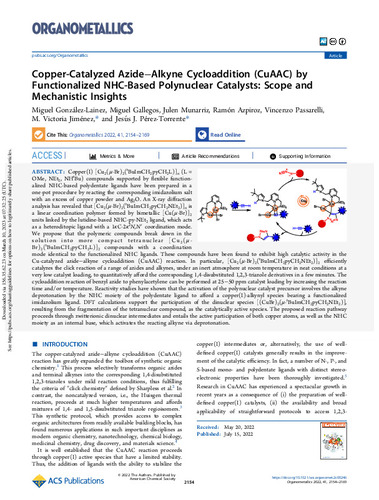 Compartir
Estadísticas de uso
Metadata