Synaptophysin is a selective marker for axons in human cutaneous end organ complexes
Citación:
Annals of Anatomy, 243 (2022); doi:10.1016/j.aanat.2022.151955
Patrocinado por:
This study was supported in part by a grant from Gerencia Regional de Salud de Castilla y León to JF and JAV ( GRS 1882/A/18 ). Y. G-M. ( PA-18-PF-BP17-044 ) and P.C. ( PA-21-PF-BP20-122 ) were supported by Grants "Severo Ochoa Program" from the Govern of the Principality of Asturias .
Id. Proyecto:
Severo Ochoa/PA-18-PF-BP17-044
Severo Ochoa/PA-21-PF-BP20-122
Files in this item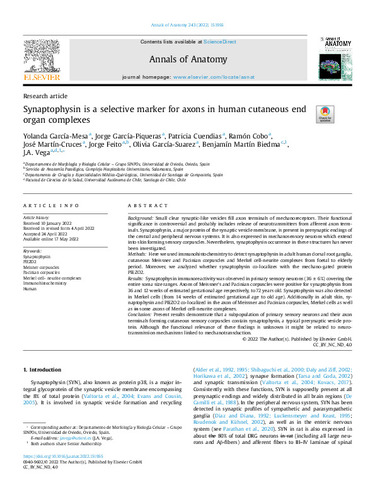 Compartir
Estadísticas de uso
Metadata