Angiogenic T cells: potential biomarkers for the early diagnosis of interstitial lung disease in autoimmune diseases?
Citación:
Biomedicines, 10(4) (2022); doi:10.3390/biomedicines10040851
Patrocinado por:
V.P.-C. and S.R.-M. are supported by funds of RETICS Program [RD16/0012/0009, Instituto de Salud Carlos III (ISCIII), co-funded by European Regional Development Fund (ERDF); FG is supported by funds of the RICORS Program (RD21/0002/0025) from ISCIII, co-funded by the European Union; OG is staff personnel of Xunta de Galicia (Servizo Galego de Saude (SERGAS) through a research-staff stabilization contract (ISCIII/SERGAS) and his work is funded by ISCIII and ERDF [RD16/0012/0014 (RIER) and PI17/00409]. He is the beneficiary of project funds from the Research Executive Agency of the European Union in the framework of MSCA-RISE Action of the H2020 Programme, project 734899—Olive-Net. RL-M is a recipient of a Miguel Servet type II Program fellowship from ISCIII, co-funded by the European Social Fund, 'Investing in your future' (CPII21/00004).
Files in this item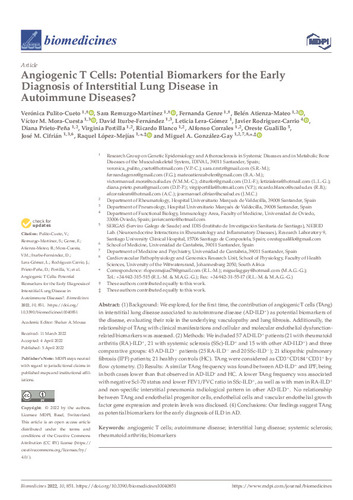 Métricas
Compartir
Estadísticas de uso
Metadata