Where humid and arid meet: sedimentology of coastal siliciclastic successions deposited in apparently contrasting climates
Citación:
Sedimentology, 69(3), p. 975-1027 (2022); doi:10.1111/sed.12958
Patrocinado por:
This research was funded by the Spanish projects PGC2018‐094034‐B‐C21 and PGC2018‐094034‐B‐C22 of the Ministry of Science, Innovation and Universities and the project CGL2014‐52670‐P of the Ministry of Economy and Competitiveness, by the Unidad de Paleontología de Dinosaurios de Teruel, by the Department of Education, Culture and Sport of the Government of Aragón, by the Research Group E04_20R FOCONTUR (financed by the Department of Science, University and Society of Knowledge of the Government of Aragón and FEDER funds 'Construyendo Europa desde Aragón'), by the Instituto Aragonés de Fomento and Dinópolis. The authors also thank the "Sedimentary Geology, Paleoclimate and Environmental Change" UCM Research Group (Ref. 910198).
Id. Proyecto:
MICIU/PGC2018‐094034‐B‐C21
MICIU/PGC2018‐094034‐B‐C22
MINECO/CGL2014‐52670‐P
Files in this item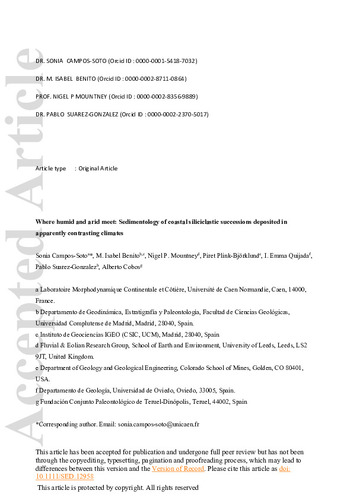 Compartir
Estadísticas de uso
Metadata