Automatic assessment of individual stem shape parameters in forest stands from TLS point clouds: application in Pinus pinaster
Citación:
Forests, 13(3) (2022); doi:10.3390/f13030431
Patrocinado por:
This work was funded by the Instituto Nacional de Investigación y Tecnología Agraria y Alimentaria (INIA) within the framework of the RTA2017-00063-C04-02 (2017) project entitled: "Evaluation of relevant characters for the sustainable management of Pinus pinaster Ait. and their interaction under new climatic scenarios". Carlos Cabo received funding from the UK Natural Environment Research Council (NE/T001194/1), and from the Spanish Government (Ministerio de Universidades) and the European Union (NextGenerationEU), within the project MU-21-UP2021-030.
Id. Proyecto:
RTA2017-00063-C04-02
EU/MU-21-UP2021-030
Files in this item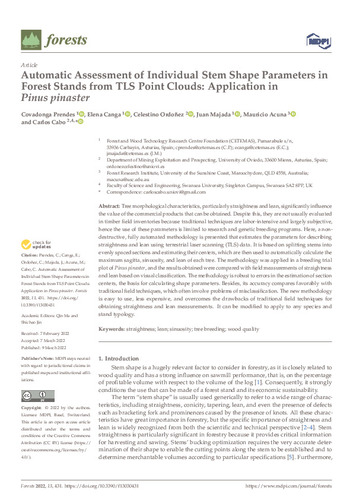 Compartir
Estadísticas de uso
Metadata