Narrow segment driven multistep magnetization reversal process in sharp diameter modulated Fe67Co33 nanowires
Citación:
Nanomaterials, 11(11) (2021); doi:10.3390/nano11113077
Patrocinado por:
This research was funded by Spanish Ministerio de Ciencia e Innovación (MICINN) and Research Agency State (AEI), under grants number PID2019-108075RBC31 and PID2019-108075RBC32. J. Garcia acknowledges the financial support from the Principality of Asturias and European Union under the PCTI/FEDER program "Retorno Talento" (project no. IDI/2018/000010). Spanish MICINN is also gratefully recognized under research project FEDER-11-UNOV10-2E-1011.
Files in this item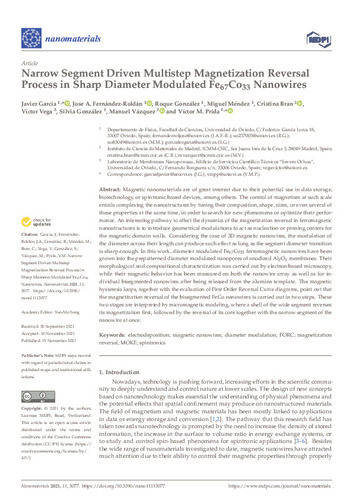 Métricas
Compartir
Estadísticas de uso
Metadata