Establishing a governance threshold in small-scale fisheries to achieve sustainability
Citación:
AMBIO: a Journal of the Human Environment, 51, p. 652-665 (2022); doi:10.1007/s13280-021-01606-x
Patrocinado por:
We acknowledge financial support from Biodiversa through the project PERCEBES (''Tools for the transition to spatial management of coastal resources: the stalked barnacle fishery in SW Europe''; Spanish Ministry of Economy, Industry and Competitiveness, PCIN-2016-120; EU Horizon 2020 BIODIVERSA-ERA-2015 call). AA is supported by a FPU fellowship (Ref. FPU2016-04258, Spanish Ministry of Science, Innovation and Universities). AA and EO acknowledges financial support from the European Research Council through the project CLOCK (''Climate Adaptation to Shifting Stocks''; ERC Starting Grant Agreement n 8679812; EU Horizon 2020). TC acknowledges financial support of Fundaçao para a Ciencia e Tecnologia (FCT), through the strategic project UID/MAR/04292/2019 granted to MARE. HQ acknowledges the FCT/MCTES for the financial support to CESAM (UIDP/50017/2020?UIDB/50017/2020), through national funds. Funding for openaccess charge: Universidade de Vigo/CISUG.
Files in this item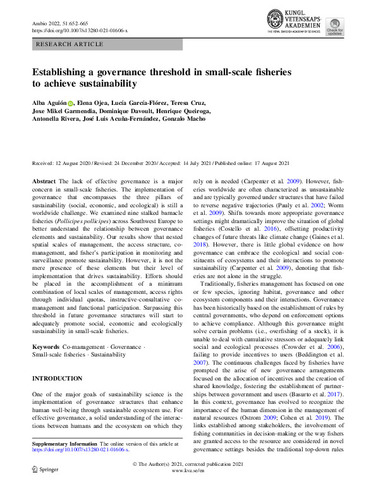 Métricas
Compartir
Estadísticas de uso
Metadata