Experimental study and comparison of different fully transparent laminated glass beam designs
Citación:
Glass Structures and Engineering, 6(4), p. 463-486 (2021); doi:10.1007/s40940-021-00160-y
Patrocinado por:
The work was partially funded by CRISTEC with CDTI funds (IDI-20160588). The authors at the University of Lleida would like to thank the Catalan Government for the quality accreditation given to their research group GREiA (2017 SGR 1537). GREiA is certified agent TECNIO in the category of technology developers from the Government of Catalonia. This work is partially supported by ICREA under the ICREA Academia programme. The financing support given by the Spanish Ministry of Economy and Competitiveness through the project BIA2014-53774-R is gratefully appreciated. Xavier Centelles would like to thank University of Lleida for his research fellowship and to the University of Oviedo for hosting his secondment during 2019.
Id. Proyecto:
MINECO/BIA2014-53774-R
IDI-20160588
2017 SGR 1537
MINECO/BIA2014-53774-R
Files in this item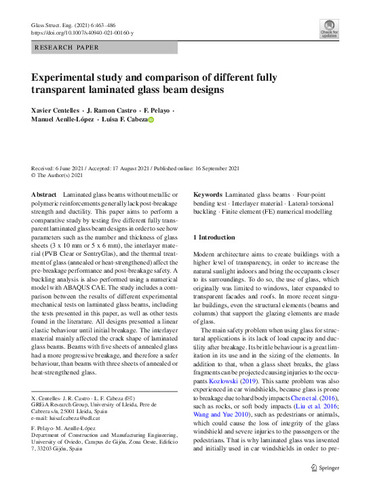 Compartir
Estadísticas de uso
Metadata