On the relationship between hydrogen bond strength and the formation energy in resonance-assisted hydrogen bonds
Citación:
Molecules, 26(14) (2021); doi:10.3390/molecules26144196
Patrocinado por:
We gratefully acknowledge financial support from CONACyT/Mexico (grant 253776), PAPIIT/UNAM (project IN205118), and the Spanish MICINN (grant PGC2018-095953-B-I00). We are also grateful to DGTIC/UNAM (project LANCAD-UNAM-DGTIC-250) for computer time. Miguel Gallegos specifically acknowledges the Spanish MICIU for the predoctoral grant FPU19/02903.
Id. Proyecto:
MICINN/PGC2018-095953-B-I00
FPU19/02903
Files in this item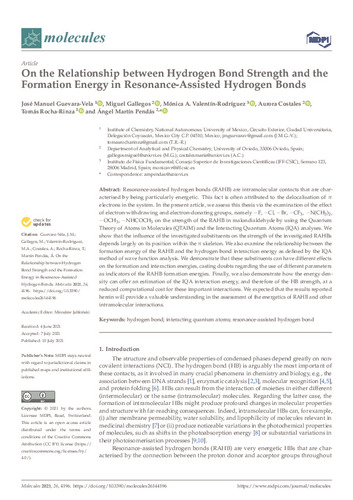 Compartir
Estadísticas de uso
Metadata