Levels of predominant intestinal microorganisms in 1 month-old full-term babies and weight gain during the first year of life
Citación:
Nutrients, 13(7) (2021); doi:10.3390/nu13072412
Patrocinado por:
This work was funded by the EU Joint Programming Initiative—A Healthy Diet for a Healthy Life (Project EarlyMicroHealth) and the Project AGL2017-83653R funded by the Spanish "Ministerio de Ciencia, Innovación y Universidades (MCIU), Agencia Estatal de Investigación (AEI) and FEDER" and by the European Research Council under the European Union's Horizon 2020 research and innovation program (ERC starting grant, no. 639226). Silvia Arboleya is the recipient of a Juan de la Cierva Postdoctoral Contract from the Spanish Ministry of Science and Innovation (Ref. IJCI-2017-32156) funded by the Spanish Ministry of Science, Innovation and Universities.
Id. Proyecto:
MICIU/AEI/FEDER/AGL2017-83653R
info:eu‐repo/grantAgreement/EC/H2020/639226
Juan de la Cierva/IJCI-2017-32156
Files in this item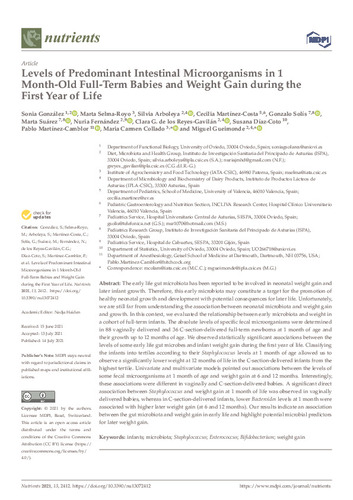 Compartir
Estadísticas de uso
Metadata