Enhancing the electrocatalytic activity of palladium nanocluster tags by selective introduction of gold atoms: application for a wound infection biomarker detection
Citación:
Biosensors and Bioelectronics, 200 (2022); doi:10.1016/j.bios.2021.113926
Patrocinado por:
This work has been supported by the CTQ2017-86994-R and MCI-21-PID2020-115204RB-I00 projects from the Spanish Ministry of Economy and Competitiveness (MINECO) and the Spanish Ministry of Science and Innovation (MICINN) respectively, and the FC-GRUPIN-ID/2018/000166 project from the Asturias Regional Government. C. Toyos Rodríguez thanks the MICINN for the award of a FPI Grant (PRE2018-084953). A. de la Escosura Muñiz also acknowledges the MICINN for the "Ramón y Cajal" Research Fellow (RyC-2016-20299).
Files in this item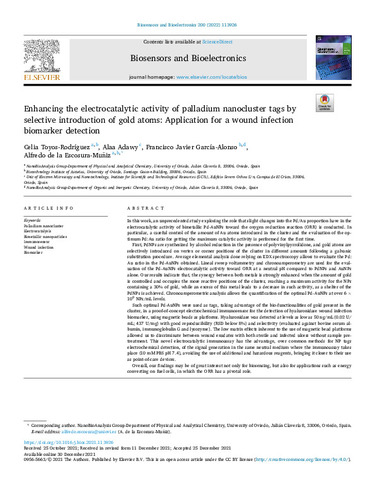 Métricas
Compartir
Estadísticas de uso
Metadata