La edad de plata de la Sociedad Filarmónica de León (1920-1927)
Author:
Suárez García, José Ignacio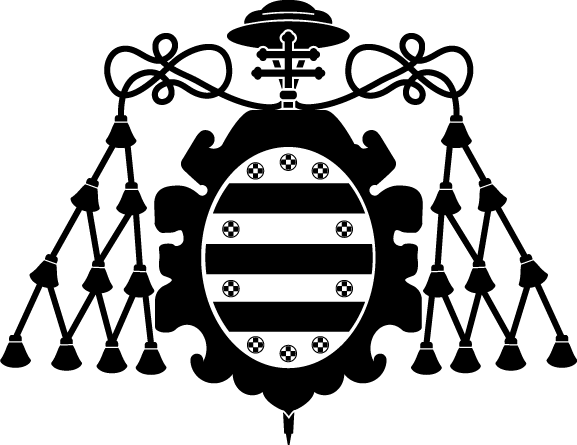 Subject:
Música en España en el siglo XX
Sociedad Filarmónica de León
Directores
Agrupaciones de cámara
Solistas
Twentieth-Century Music in Spain
León Philharmonic Society
Conductors
Chamber ensembles
Soloist
Editorial:
Consejera de Cultura y Patrimonio Histórico Centro de Documentación Musical de Andalucía
Citación:
Música Oral del Sur, 17, p. 77-145 (2020)
Patrocinado por:
Born in 1907 under the name Sociedad de Conciertos de León (León Concert Society), the Sociedad Filarmónica de León (León Philharmonic Society) lived one of its best moments between 1920 and 1927. The stage coincided with an economic rebound in the city that had its influence both in local commerce and in a flourishing cultural activity. In such favourable context, the Leonese Philharmonic was able to take to the location outstanding performers, among these, the Orquesta Sinfónica de Madrid (Madrid Symphonic Orchestra) –conducted by Arbós– occupied a prominent place. The then called "ancient music", Romantic repertoire, composers of the historical Vanguards, and Spanish and Russian symphonisms were the main axes of the programming. The musical criticisms published in two newspapers with opposite orientation, the catholic Diario de León and the republican La Democracia, normally reveal different kinds of understandings about the performed repertoire, which agree largely with the conflicting conceptions of the Generation of 98 and Generation of 14. Nacida en 1907 bajo el nombre Sociedad de Conciertos de León, la Sociedad Filarmónica de León vivió uno de sus mejores momentos entre 1920 y 1927. La etapa coincidió con un repunte económico de la ciudad que tuvo su influencia tanto en el comercio de la localidad como en una floreciente actividad cultural. En este contexto tan favorable, la Filarmónica leonesa fue capaz de llevar a la localidad destacados intérpretes, entre los cuales, la Orquesta Sinfónica de Madrid, dirigida por Arbós, ocupó un lugar prominente. La música entonces llamada "antigua", el repertorio romántico, los compositores de las vanguardias históricas y los sinfonismos español y ruso fueron los principales ejes de la programación. Las críticas musicales publicadas en dos periódicos de orientación opuesta, el católico Diario de León y el republicano La Democracia, traslucen normalmente formas diferentes de entender el repertorio interpretado, las cuales concuerdan en buena medida con las enfrentadas concepciones de la Generación del 98 y la Generación del 14.
Files in this item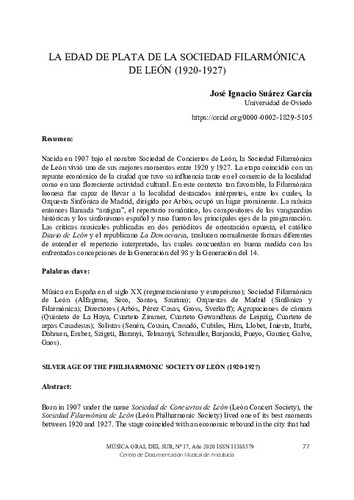 Compartir
Estadísticas de uso
Metadata