Evaluation of the MODIS (C6) Daily Albedo Products for Livingston Island, Antarctic
Subject:
albedo
Antarctica
MODIS snow albedo
in-situ albedo
albedo trend
Citación:
Remote Sensing, 13(12) (2021); doi:10.3390/rs13122357
Patrocinado por:
This work was funded by the Spanish Ministry of Economy, project PERMASNOW (CTM2014-52021-R). The Remote Sensing Applications (RSApps) Research Group (GR-2016-0005) was funded by the University of Oviedo, Spain. A. Corbea-Pérez acknowledges funding from the Ph.D. Grants: "Severo Ochoa" from the Government of the Principality of Asturias [BP17-151] and "Predoctoral Grant" from the University of Oviedo.
Files in this item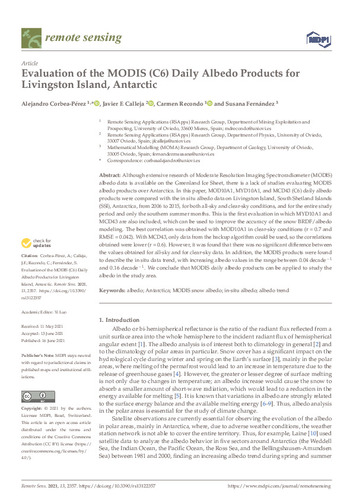 Métricas
Compartir
Estadísticas de uso
Metadata
Related items
Showing items related by title, author, creator and subject.