Intestinal microbiota alterations by dietary exposure to chemicals from food cooking and processing. Application of data science for risk prediction
Citación:
Computational and Structural Biotechnology Journal, 19, p. 1081-1091 (2021); doi:10.1016/j.csbj.2021.01.037
Patrocinado por:
This work is receiving support from the project RTI2018-098288-B-I00 (MCIU/AEI/FEDER, UE) and is based on concepts developed partly funded by projects TIN2017-88877-R (AEI/FEDER, UE), TIN2017-87600-P (AEI/FEDER. UE) and IDI/2018/000176 (Asturian Government GRUPIN projects).
Id. Proyecto:
MCIU/AEI/FEDER/RTI2018-098288-B-I00
AEI/FEDER/TIN2017-88877-R
AEI/FEDER/TIN2017-87600-P
FC-GRUPIN-IDI/2018/000176
Files in this item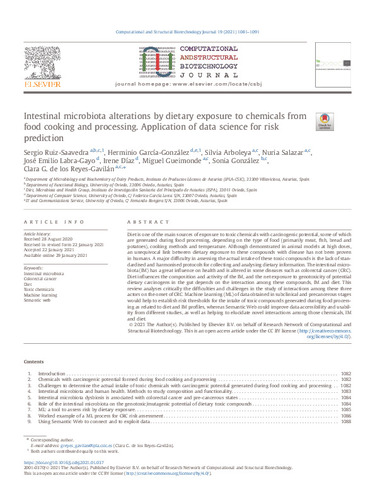 Compartir
Estadísticas de uso
Metadata