Do individuals with autoimmune disease have increased risk of subclinical carotid atherosclerosis and stiffness?
Citación:
Hypertension Research, 44, p. 978-987 (2021); doi:10.1038/s41440-021-00655-9
Patrocinado por:
Supported by grants from the Instituto de Salud Carlos III FEDER (CP12/03287, CP17/00012), Health Research Fund (FIS 2003/HERMES PI20471, PI070403, ETES: PI07/90415, FIS11/ 06765) and Principado de Asturias Regional Government (IDI2018–000176). Partially supported with European Regional Development Fund funds and grants from Spain's Ministerio de Ciencia, Innovación y Universidades (RTI2018–095232-B-C21) and the Generalitat de Catalunya (2017 SGR 1742).
Id. Proyecto:
ISCIII/FEDER/CP12/03287
ISCIII/FEDER/CP17/00012
IDI2018–000176
ERDF/MICIU/RTI2018–095232-B-C21
Files in this item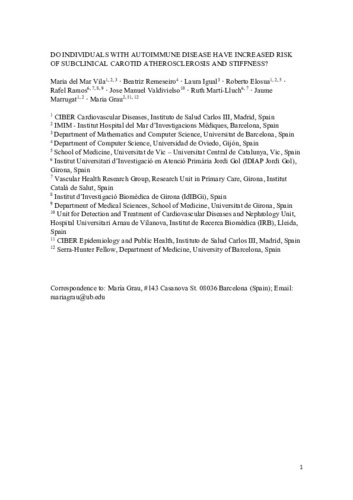 Compartir
Estadísticas de uso
Metadata