Boosting the Performance of Graphene Cathodes in Na–O2 Batteries by Exploiting the Multifunctional Character of Small Biomolecules
Citación:
Small, 17(2) (2020); doi:10.1002/smll.202005034
Patrocinado por:
M.E., J.L.G.-U., D.C., and N.O.-V. thank the European Union (Graphene Flagship-Core 3, Grant number 881603) and the Spanish Ministry of Science and Innovation (MICINN/FEDER) (RTI2018-096199-B-I00) for the financial support of this work. J.M.M., J.I.P., and S.V.-R. gratefully acknowledge funding by the Spanish Ministerio de Ciencia, Innovación y Universidades (MICINN), Agencia Estatal de Investigación (AEI), and the European Regional Development Fund (ERDF) through project RTI2018-100832-B-I00, as well as Plan de Ciencia, Tecnología e Innovación (PCTI) 2013-2017 del Principado de Asturias and the ERDF (project IDI/2018/000233). J.L.G.-U. is very thankful to the Spanish Ministry of Education, Science and Universities (MICINN) for the FPU grant (16/03498). The authors also want to acknowledge the company GRAPHENEA for supplying the graphene oxide used in this work. The authors express special thanks to María Echeverría for SEM imaging and María Jauregui for XRD measurements.
Id. Proyecto:
info:eu‐repo/grantAgreement/EC/H2020/881603
MICINN/FEDER/RTI2018-096199-B-I00
MICINN/AEI/FEDER/RTI2018-100832-B-I00
FEDER/IDI/2018/000233
Files in this item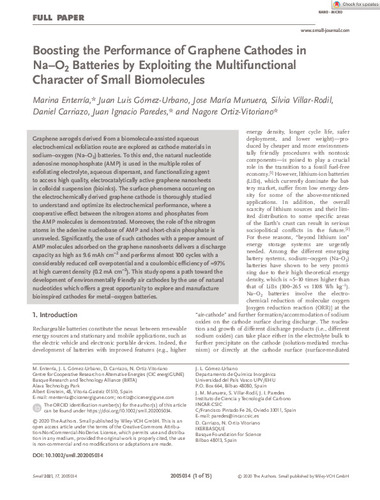 Compartir
Estadísticas de uso
Metadata