Sharing Control Strategies for a Hybrid 48V/375V/400Vac AC/DC Microgrid
Description:
Annual IEEE Energy Conversion Congress & Exposition (ECCE) (12th. 2020. Detroit, USA)
Patrocinado por:
The present work has been partially supported by the predoctoral grants program FPU for the formation in university teaching of Spain MECD under the grant IDs FPU16/05313 and FPU16/06829. This work also was supported in part by the European Union's H2020 Research and Innovation programme under Grant Agreement No 864459 (UE-19-TALENT-864459).
Id. Proyecto:
info:eu‐repo/grantAgreement/EC/H2020/864459
MECD/FPU16/06829
MECD/FPU16/05313
Collections
Files in this item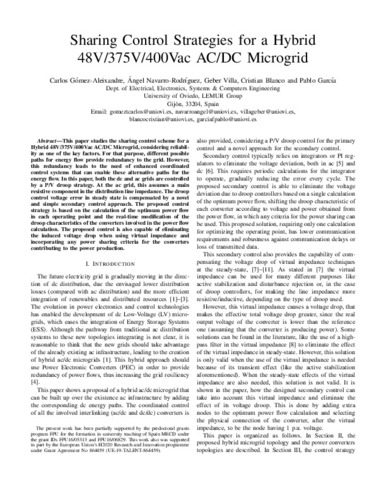 Compartir
Estadísticas de uso
Metadata