Disclosing the behavior under hydrostatic pressure of rhombohedral MgIn2Se4 by means of first-principles calculations
Citación:
Physical Chemistry Chemical Physics, 22(38), p. 21909-21918 (2020); doi:10.1039/D0CP02842H
Patrocinado por:
Financial support is from MCIU, Principado de Asturias-FICYT, and FEDER (projects PGC2018-094814-B-C22, FC-GRUPIN-IDI/2018/000177, RED2018-102612-T) and GENCI-CCRT (Grants No. A0080910433). We would like to thank the PMMS (Pole Messin de Mode ' lisation et de Simulation) and the MALTAConsolider computational facilities for providing us with the computational resources.
Files in this item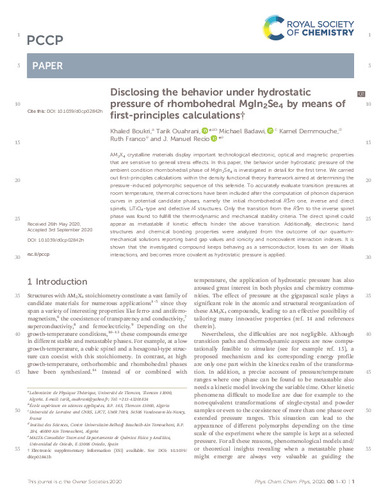 Métricas
Compartir
Estadísticas de uso
Metadata