Temperature and pressure-induced strains in anhydrous iron trifluoride polymorphs
Citación:
Physical Chemistry Chemical Physics, 23, p. 2825-2835 (2021); doi:10.1039/d0cp05888b
Patrocinado por:
This work was supported by Spanish MCIU and MINECO through the following projects: PGC2018-094814-B-C2, PGC2018-097520-A-100, RyC-2016-20301, and RED2018-102612-T. Funding was also provided by FICYT-Principado de Asturias (Spain) under Project No. FC-GRUPIN-IDI/2018/ 000177. MALTA-Consolider supercomputing center is gratefully acknowledged.
Id. Proyecto:
MCIU/MINECO/PGC2018-094814-B-C2
MCIU/MINECO/PGC2018-097520-A-100
MCIU/MINECO/RyC-2016-20301
MCIU/MINECO/RED2018-102612-T
FC-GRUPIN-IDI/2018/000177
Files in this item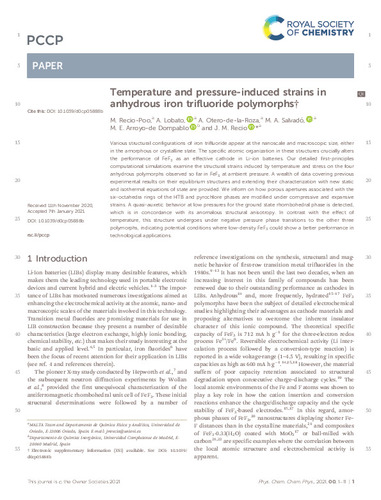 Compartir
Estadísticas de uso
Metadata