Residential surrounding greenspaceand mental health in three Spanish areas
Citación:
International Journal of Environmental Research and Public Health, 17(16), 5670, p. 1-14 (2020); doi:10.3390/ijerph17165670
Patrocinado por:
Maria Torres Toda is funded by a PFIS (Contrato Predoctoral de Formación en Investigación en Salud) fellowship (FI17/00128) awarded by Instituto de Salud Carlos III. Payam Dadvand is funded by a Ramón y Cajal fellowship (RYC-2012-10995) awarded by the Spanish Ministry of Economy and Competitiveness. MònicaGuxens is funded by a Miguel Servet fellowship (CP18/00018) awarded by the Institute of Health Carlos III. Jordi Julvez holds Miguel Servet-II contract (CPII19/00015) awarded by the Instituto de Salud Carlos III (Co-funded by European Social Fund "Investing in your future").
Files in this item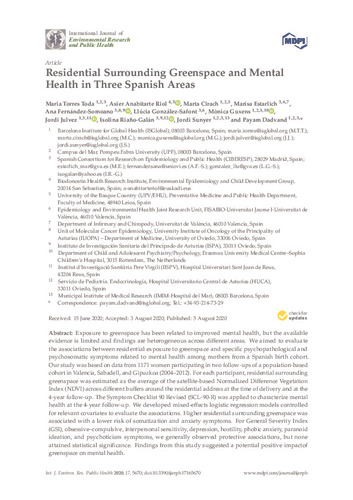 Compartir
Estadísticas de uso
Metadata