Efficacy and safety of the combination of pravastatin and sorafenib for the treatment of advanced hepatocellular carcinoma (ESTAHEP clinical trial)
Citación:
Cancers, 12(7) (2020); doi:10.3390/cancers12071900
Patrocinado por:
This study was funded by the Spanish "Ministerio de Sanidad, Servicios sociales e Igualdad" through the call for "Ayudas para el fomento de la investigación clínica independiente" (project EC10-201). J.M.B. was funded by the Spanish Carlos III Health Institute (ISCIII) (FIS PI15/01132, PI18/01075 and Miguel Servet Program CON14/00129 and CPII19/00008) co-financed by "Fondo Europeo de Desarrollo Regional" (FEDER), AMMF, Euskadi RIS3 (2019222054), and "Fundación Científica de la Asociación Española Contra el Cáncer" (AECC Scientific Foundation: "Rare cancers grant 2017").
Id. Proyecto:
EC10-201
FIS PI15/01132
PI18/01075
CON14/00129
CPII19/00008
Files in this item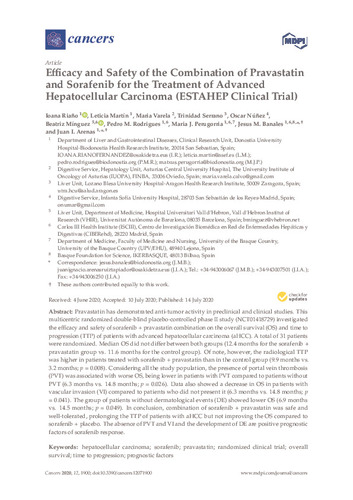 Compartir
Estadísticas de uso
Metadata