The analysis of Pinus pinaster SnRKs reveals clues of the evolution of this family and a new set of abiotic stress resistance biomarkers
Citación:
Agronomy, 10(2), p. 10020295- (2020); doi:10.3390/agronomy10020295
Patrocinado por:
This research was funded by the Spanish Ministry of Science, Innovation and University, project numbers AGL2016-77633-P and AGL2017-83988-R. F.J.C., M.C. and L.V. were respectively and generously granted by the BP14-138, BP19-137 (Programa de Ayudas Predoctorales Severo Ochoa, Autonomous Community of Asturias, Spain; to F.J.C. and M.C.) and RYC-2015-17871 (Ramón y Cajal Programme, Spanish Ministry of Economy and Competitiveness; to L.V.) fellowships.
Id. Proyecto:
MICINN/AGL2016-77633-P
MICINN/AGL2017-83988-R
Severo Ochoa Grant/BP14-138
Severo Ochoa Grant/BP19-137
MINECO/RYC-2015-17871
Files in this item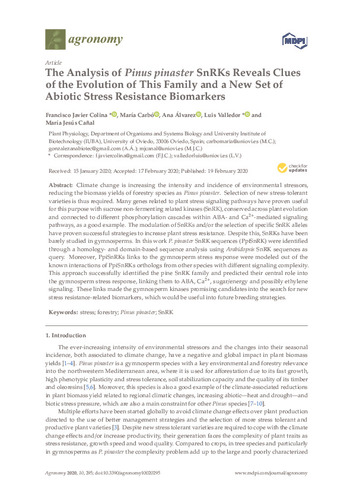 Compartir
Estadísticas de uso
Metadata