A revised phylogeny of nuthatches (Aves, Passeriformes, Sitta) reveals insight in intra- and interspecific diversification patterns in the Palearctic
Citación:
Vertebrate Zoology, 70(2), p. 241-262 (2020); doi:10.26049/VZ70-2-2020-10
Patrocinado por:
We received further funding for wet lab work from Deutsche Forschungsgemeinschaft (DFG), PA1818/3-1 and from UNESCO Bangkok under contract number 4500306550. YHS was supported by grants of the National Natural Science Foundation of China (30620130110), and JCI by a GRUPIN research grant from the Regional Government of Asturias (Ref.: IDI/2018/000151). Genetic work was conducted in the Senckenberg Dresden Molecular Laboratory (SGNSNSD-Mol-Lab).
Files in this item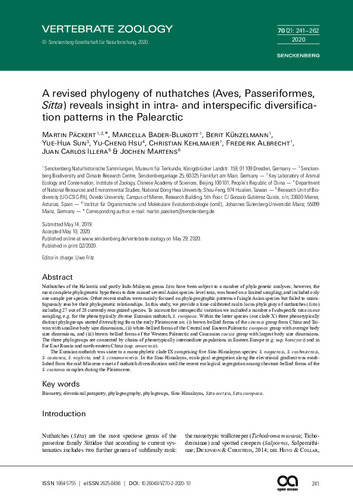 Compartir
Estadísticas de uso
Metadata