Design and fabrication of a cryogenic magnetocaloric composite by spark plasma sintering based on the RAl2 laves phases (R= Ho, Er)
Citación:
Journal of Alloys and Compounds, 831, p. 154779- (2020); doi:10.1016/j.jallcom.2020.154779
Patrocinado por:
The support received from the following organizations is gratefully acknowledged: (a) Laboratorio Nacional de Nanociencias y Nanotecnología (LINAN, IPICyT); (b) Consejo Potosino de Ciencia y Tecnología (Copocyt); (c) Banco Santander Central Hispano; (d) Spanish MCIU and AEI and European FEDER (MCIU-19-RTI2018-094683-B-C52), and; (e) Principado de Asturias (IDI/2018/000185), Spain. Authors are also indebted to M.Sc. B.A. Rivera-Escoto, M.Sc. A.I. Pena Maldonado, and Dr. G.J. Labrada-Delgado (from LINAN)and D. Martínez Blanco (from scientific and technological resources of the University of Oviedo) for the technical support given. J. Zamora thanks to CONACYT-Mexico for supporting his postdoctoral position at IPICYT. C.F. Sanchez-Valdés is grateful to DMCU-UACJ for supporting his research stays at IPICyT (program PFCE and academic mobility grant); also, for the financial support received from SEP-Conacyt, Mexico (Grant No. A1-S-37066).
Id. Proyecto:
MCIU-19-RTI2018-094683-B-C52
IDI/2018/000185
Files in this item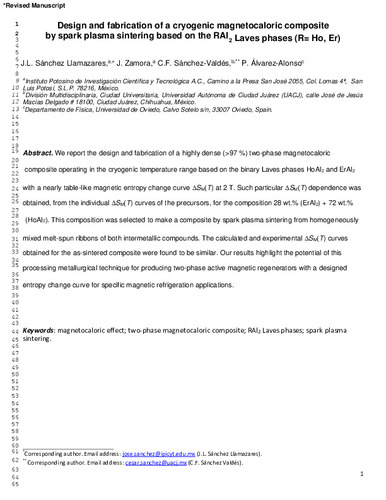 Compartir
Estadísticas de uso
Metadata