Sequential Two-Step Stereoselective Amination of Allylic Alcohols through the Combination of Laccases and Amine Transaminases
Citación:
ChemBioChem, 21(1-2), p. 200-211 (2019); doi:10.1002/cbic.201900473
Patrocinado por:
Financial support from the Spanish Ministry of Economy and Competitiveness(MEC,Project CTQ2016-75752-R) and the Asturian regional government (FC-GRUPIN-IDI/2018/000181) is gratefully acknowledged. J.A.- V. also thanks the Asturian regional government for a predoctoral fellowship in the Severo Ochoa programme. Prof. Wolfgang Kroutil (Universityof Graz,Austria) is gratefully acknowledged for the donation of overexpressed amine transaminases.
Id. Proyecto:
MEC/TQ2016-75752-R
FC-GRUPIN-IDI/2018/000181
Files in this item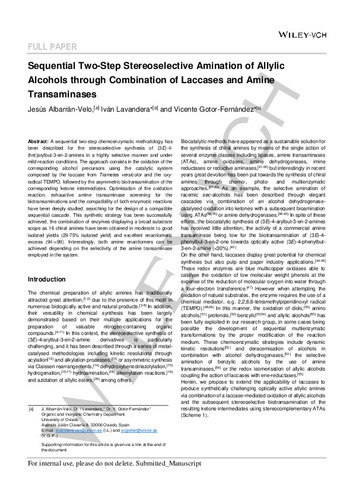 Compartir
Estadísticas de uso
Metadata