Pyruvate Plays a Main Role in the Antitumoral Selectivity of Cold Atmospheric Plasma in Osteosarcoma
Citación:
Scientific Reports, 9(1), p. 10681- (2019); doi:10.1038/s41598-019-47128-1
Patrocinado por:
Tis project has received funding from the European Research Council (ERC) under the European Union's Horizon 2020 research and innovation programme (Grant Agreement No. 714793), MICINN/FEDER (grants MAT2015-65601-R and SAF-2016-75286-R and RyC fellowship of CC), ISC III/FEDER [(Miguel Servet Program CPII16/00049 of R.R. and Consorcio CIBERONC (CB16/12/00390)] and the Generalitat de Catalunya for the SGR2014 01333.
Id. Proyecto:
MICINN/FEDER/MAT2015-65601-R/SAF-2016-75286-R
ISCIII/FEDER/CPII16/00049
MICINN/FEDER/SAF-2016-75286-R
Files in this item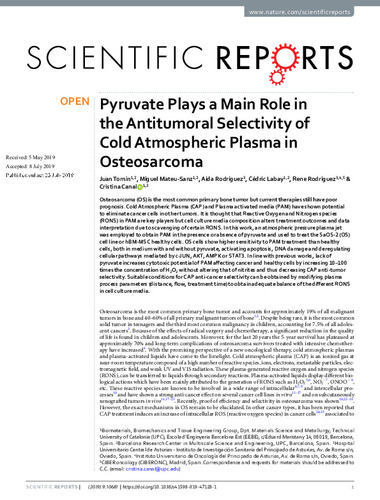 Compartir
Estadísticas de uso
Metadata