Launching of hyperbolic phonon-polaritons in h-BN slabs by resonant metal plasmonic antennas
Citación:
Nature Communications, 10(1), p. 3242- (2019); doi:10.1038/s41467-019-11143-7
Patrocinado por:
The authors acknowledge stimulating discussions with Prof. J. Aizpurua. The authors acknowledge financial support from the European Commission under the Graphene Flagship (GrapheneCore2), the Spanish Ministry of Science, Innovation and Universities (national projects MAT2017-88358-C3, MAT2015 65159-R, MAT2015-65525-R, RTI2018-094830-B-100, RTI2018-094861-B-100, and the project MDM-2016-0618 of the Marie de Maeztu Units of Excellence Program) the Marie Sklodowska-Curie individual fellowship (SGPCM-705960), the Basque Government (PhD fellowship PRE 2018 2 0253), and the project PIC201660E046 from CSIC. M.M.W. acknowledges support from the Konrad-Adenauer-Stiftung. P.A.G. acknowledges support from the European Research Council under Starting Grant 715496, 2DNANOPTICA.
Id. Proyecto:
MINECO/MAT2017-88358-C3
MINECO/MAT2015 65159-R
MINECO/MAT2015-65525-R
MINECO/RTI2018-094830-B-100
info:eu-repo/grantAgreement/EC/H2020/715496
Files in this item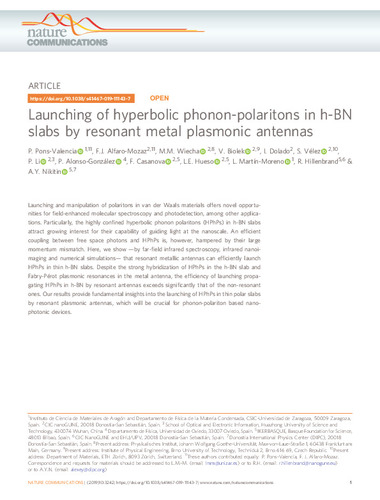 Compartir
Estadísticas de uso
Metadata