Transdiagnostic dimensions of psychopathology at first episode psychosis: Findings from the multinational EU-GEI study
Citación:
Psychological Medicine, 49(8), p. 1378-1391 (2019); doi:10.1017/S0033291718002131
Descripción física:
p. 1378-1391
Patrocinado por:
The EU-GEI Project was funded by the European Community's Seventh Framework Programme under grant agreement No.HEALTH-F2-2010-241909 (Project EU-GEI). The work was further funded by: Clinician Scientist Medical Research Council fellowship (project reference MR/M008436/1) to MDF; Veni grant from the Netherlands Organisation for Scientific Research (grant no. 451-13-022) to UR; Sir Henry Dale Fellowship, jointly funded by the Wellcome Trust and the Royal Society (grant no. 101272/Z/13/Z) to JBK; National Institute for Health Research (NIHR) Biomedical Research Centre for Mental Health at South London and Maudsley NHS Foundation Trust and King's College London. The Brazilian study was funded by the Säo Paulo Research Foundation under grant number 2012/04170.
Id. Proyecto:
UE/HEALTH-F2-2010-241909
Files in this item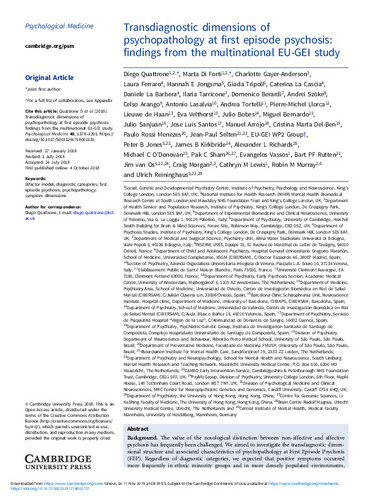 Compartir
Estadísticas de uso
Metadata