Intermetallic Co(2)Feln Heusler Alloy Nanowires for Spintronics Applications
Citación:
Acs Applied Nano Materials, 1(12), p. 7066-7074 (2018); doi:10.1021/acsanm.8b01836
Patrocinado por:
This work has been financially supported by VEGA 1/0164/16, APVV-16-0079, and VVGS-PF-2016-72614, together Spanish MINECO research project Nos. MAT2013-48054-C2-2-R and MAT2016-76824-C3-3-R. The technical assistance provided by the Scientific-Technical Services of the Univ. of Oviedo is also recognized. C.L. thanks also CONACYT for a sabbatical fellowship (No. 215416).
Id. Proyecto:
MINECO/MAT2013-48054-C2-2-R
MINECO/MAT2016-76824-C3-3-R
Files in this item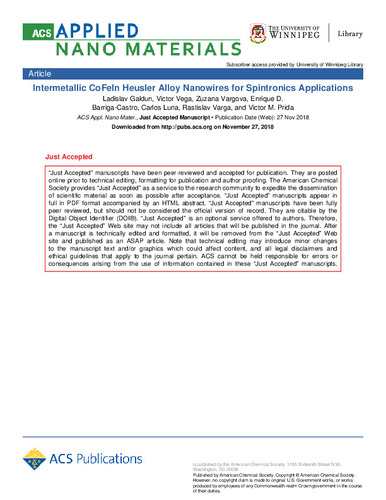 Compartir
Estadísticas de uso
Metadata