Structure and thermodynamics of charged nonrotating black holes in higher dimensions
Citación:
Physical Review D, 99(8), p. 84027- (2019); doi:10.1103/PhysRevD.99.084027
Patrocinado por:
D. R. G. is funded by the Atracción de Talento Investigador programme of the Comunidad de Madrid, No. 2018-T1/TIC-10431, and acknowledges support from the Fundação para a Ciência e a Tecnologia (FCT, Portugal) research Grants No. SFRH/BPD/102958/2014, UID/FIS/04434/2013, PTDC/FIS-OUT/29048/2017 and PTDC/FIS-PAR/31938/2017; the Spanish Projects No. FIS2014-57387-C3-1-P (MINECO/FEDER, EU) and No. FIS2017-84440-C2-1-P (AEI/FEDER, EU); and Project No. H2020-MSCA-RISE-2017, Grant No. FunFiCO-777740, and Project No. SEJI/2017/042 (Generalitat Valenciana).
Id. Proyecto:
MINECO/FEDER/FIS2014-57387-C3-1-P
FEDER/FIS2017-84440-C2-1-P
Files in this item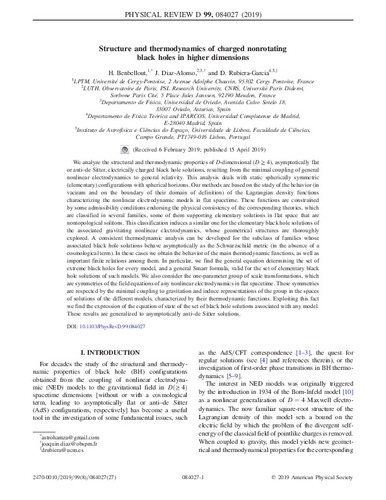 Compartir
Estadísticas de uso
Metadata